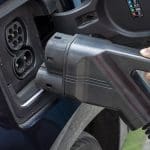 Toronto, Ontario — In this week's report, BMW patents a suspension system capable of converting road bumps into electric vehicle (EV) energy, Apple delays its autonomous vehicle (AV) debut to 2026, and Tesla returns radar sensors to its autopilot suite after a short hiatus. This is the latest in electric and autonomous vehicles.
Unlimited Power (or not)
Perpetual energy is not here yet, but a patent by BMW suggests that we are one step closer.
According to CarBuzz, patent notes from BMW filed to Germany's premier patent office detail a new suspension design that generates electricity from a car's vertical wheel movement from bumps in the road.
Whereas traditional suspension seeks to mitigate the bumps felt by a driver and their passengers, this new design aims to translate this jerky force into energy that feeds back into the vehicle.
At the time of publishing, there are no details for when this system may rollout to customers or how much it might cost.
Delayed Release
Apple is delaying the debut of its home-grown AV, with inside sources saying that the phone makers' vision for an AV without pedals or a steering wheel is impossible, given current technological constraints.
While technically unconfirmed by Apple, multiple sources previously confirmed the existence of Project Titan, Apple's AV project intended to deliver a Level 5 AV—a vehicle where no human attention or interaction is required.
According to Driving, inside sources disclosed that the project has been shifted to focus on a less impressive but more realistic design; an AV that only features full autonomy on highways.
Backtracked
Tesla has requested an extension with the United States' Federal Communications Commission (FCC) regarding the possible use of radar on Full Self Driving (FSD) equipped vehicles in 2023, according to a report by Electrek.
This follows a series of announcements by the electric vehicle company and Tesla CEO, Elon Musk claiming in 2022 that Tesla would be shifting towards a pure vision AV system, abandoning radar systems on AVs in the process.
Previously in May 2021, Tesla eliminated front-facing radar sensors in Model 3 and Model Y vehicles, relying on camera vision and neural net processing to deliver Autopilot functionality.
It is currently unknown when or where these radar systems will be installed on Tesla vehicles.
The post EV/AV Report: Perpetual motion and delayed releases appeared first on Collision Repair Magazine.