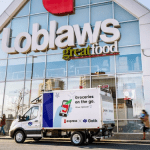 Toronto, Ontario — In this weekly electric and autonomous vehicle report, a grocery giant drops driverless trucks in Toronto; Magna deploys autonomous pizza delivery robots and the federal government awards more money to Quebec mining efforts.
Hey, who's driving that truck?
In last week's EV/AV Report, we covered Loblaws' partnership with autonomous vehicle company Gatnik. Together, the two companies have deployed a fleet of autonomous delivery trucks across the Greater Toronto Area. 
The trucks were initially operating with a safety driver behind the wheel⁠—but that precaution has since been removed, in what the partners have deemed "a first for Canada." 
Gatnik claims that its delivery vehicles⁠ now operate at Level 4 autonomy, just shy of the almighty autonomous Level 5 goal. 
The companies have been allowed to operate driverless vehicles on public roads thanks to a pilot project enacted by the Ontario government in 2016. 
Pizza sans people
Magna International has taken its slice of the metaphorical autonomous pizza. 
The Aurora, Ont.-based auto parts supplier has unveiled a new pilot program⁠—a pizza delivery robot⁠—making its way around Detroit. 
The new micro-mobility solution offers retailers end-to-end, last-mile autonomous delivery opportunities around both restaurant orders and e-commerce products, though Magna sees more potential for the autonomous delivery system. 
"Expanding into the growing world of new mobility is a key part of our 'Go Forward' strategy that takes Magna beyond its existing technical strength in automotive and vehicle systems, and into entirely new markets and business models," said Matteo Del Sorbo, executive vice president for Magna International and the global lead for Magna New Mobility.
Earmarked for EVs
The federal government announced a $222 million investment last week, with the funds allotted to Rio Tinto's efforts to increase the production of critical minerals for EVs and batteries.
Prime Minister Justin Trudeau said the funds derive from the Strategic Innovation Fund and will allow the company to increase the production of critical minerals such as lithium, titanium and scandium. 
Rio Tinto has pledged to reduce its greenhouse gas emissions by 70 percent⁠—the equivalent of removing 145,000 cars from the road, it said. The company also plans to quadruple its production of scandium, which can be used in EVs; titanium and lithium, used in electric car batteries.
The post EV/AV Report: Loblaws deploys completely driverless trucks in Toronto; Magna takes its slice of the autonomous pizza appeared first on Collision Repair Magazine.